Quotes for Sittingvolleyball
Quote1.
Sitting volleyball is Team Sport without handicap
65 years Sitting Volleyball has proven that you are not hindered by any limitation when playing.
With Sitting Volleyball I no longer experience my handicap and feel free and unhindered.
I can no longer practice a sport standing up. Sitting volleyball offers me to keep my condition up and still do competitive sports. In both cases sitting volleyball offers the desired solution. A sports experience without handicap. In 2020, athletes worldwide chose Sitting Volleyball as the most popular sport at the Paralympics
Quote 2.
Not the equality in sport is the challenge
Not equality is the challenge in Sport, but a stronger opponent or better teammate is the incentive for optimal mental and physical performance.
Quote 3.
A Player Profile (minimal dissability) is a Sport specific rule
A Rule has been added to the Rules for Sitting Volleyball International which allows Sitting Volleyball Players to be admitted Internationally. These rules are proposed by the Sport Department (SD), the medical committee and adopted by the Board and the GA. The SD provides all training, including those for sitting volleyball classifiers. Only the classifiers trained by WPV can test Sitting Volleyball Players along the established Policy. A Player Profile (classification) is a Sports Rule that is not determined by classifiers but alone by WPV- GA.

Quote 4
We are 15% + yearly 100.000 Sports leavers

15% van de wereld bevolking is gehandicapt. Hebt u enig idee hoe
groot onze markt is in Nederland ca 240.000. Jaarlijks stoppen er 100.000 sporters met actief sporten door vooral blessures.
Noch bij de verantwoordelijke Instanties en Bonden is er een adequaat Sport beleid ontwikkeld om de gehandicapte medemens aan het bewegen te krijgen en vooral de sport uit verlaters aan het sporten te houden.. Het ministerie van Economische Zaken becijferde dat een sportende gehandicapte zelfs een economische meerwaarde van 4,5 % had . Nu de politiek , NOC*NSF en Nevobo nog aan het bewegen zien te krijgen om de echte doelgroepen te bereiken.

Quote 5
Disabled Athletes are not " look a likes " and do not want to be
The "Re-thinking" has still not penetrated. People are not the same, so neither are disabled people. Each branch of sport with its own unique rules requires specific skills from a participant, disabled or not.
For each branch of Sport or part thereof, a separate minimum handicap must therefore be included in the relevant sport rules.
Not the same General minimum disability in every branch of Sport !!!
Quote 6
Adapted sports as a supplement to the existing "sports offer " requires an administrative adjustment.
Bedrijfsmatig besturen is bestuurlijk aanpassen aan de maatschappelijke ontwikkelingen. De maatschappelijke ontwikkelingen leggen een grotere verantwoordelijkheid neer bij de georganiseerde sport. Het opnemen van sport activiteiten van mensen met een fysieke of geestelijke beperking wordt algemeen als vanzelfsprekend beschouwd. Immers de valide mens heeft niet het alléén recht op sport. Bovendien is sport juist zeer belangrijk voor een ieder met een beperking. Het opnemen van een nieuwe activiteit in een bestaande organisatie vraagt om méér inspanningen. De nieuwe activiteit moet gezicht krijgen en behouden vooral in het Bestuur en op de administratie, zeker als het gaat om een fusie model. De rechten, plichten en faciliteiten moeten via een Bestuurslid geborgd zijn. Wij zijn slechts 15% mag geen reden zijn om sporters met een beperking erbij te laten hangen. Het zoeken naar nieuwe leden met een beperking en behouden van stoppende leden door een beperking vraagt extra bestuurlijke inspanningen. Al of niet slagen van een aangepaste sport mag niet afhankelijk zijn van goedwillende vrijwilligers, die het als taak krijgen toebedeeld. Deze verantwoordelijkheid geldt zowel voor een Nationale Bond als voor een vereniging.
Quote 7
Sport is not fair and certainly not equivalent

In Sitting Volleyball there is no medical discrimination for players who are technically too good or stand out due totheir length. No medical "protection" for players who are physically weak or too small. That's Sports. As a result, Athletes worldwide chose Sitting Volleyball as the most popular and attractive Sport at the Paralympics. Team Sport stimulates many special features that give you fitness and confidence.
Quote 8
IPC is an International "Event " Organisation
IPC focuses on organizing the Paralympics. It may invite Popular Sports to participate and exclude sports and games on "ethical" grounds. IPC cannot legally impose any requirements on the International Sports Federations regarding Sports Rules (including classifications). The credibility of the Paralympic Sport is served by a good "Sport" choice, where a "visible" disability is not the "Goal" of the "Sport".
Quote 9
WPV is an International SPORT Organisation
WPV is also internationally responsible for Sitting Volleyball. She sets the Rules of the Game and no one else. Admission to the sport is an Administrative choice and not a Medical one. This permission "Players Profile" is part of the Sitting Volleyball Rules. The rules of the game and training are housed in the Organisation. Classifiers are advisors and executors, cannot follow their own philosophy.
Quote 10
The annual organization of a national Sitting Volleyball symposium is a must
Sharing experiences of sitting volleyball is useful. From 2016 to 2018, a Paravolley Symposium has temporarily taken place. Exchanging information about the target groups and a national and international policy and developments is a must for associations. Reaching the target groups and collaborating between the Indoor Volleyball associations must also be directed by the Central Federation
Quote 11
Communication about Sitting Volleyball is a must
Unknown makes unloved. Do regularly provide health workers with information and flyers about the goal of Sitting Volleyball
100,000 Sport dropouts annually . Often the target group suitable for Sitting Volleyball. The lack of insight and cooperation between the National Federations means a loss of thousands of potential members
Quote 12
Clinging to tradition stalls sports development
When ISMGF International first started, the extensive classification system for wheelchair users was leading. After this, the doctors negotiated the same system for all diagnosis groups and all sports, which followed later. Unfortunately, 70 years later, international top sport still faces the same picture. More classes for a "fair" competition. The program is getting bigger and bigger... Athletes competing in different sports and classes. It's Participating is Winning festival. The real top athletes have a "hangover" feeling after every Paralympics. Sitting volleyball has also not escaped the hands of IPC. It is therefore up to the WPV to monitor this seriously
Quote 13
Sport gives energy en self confidence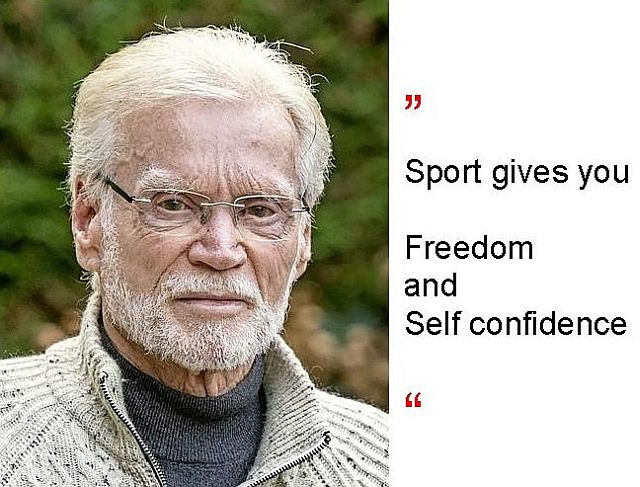 Quote 14
The Inter National Federations do have social obligations to their former athletes.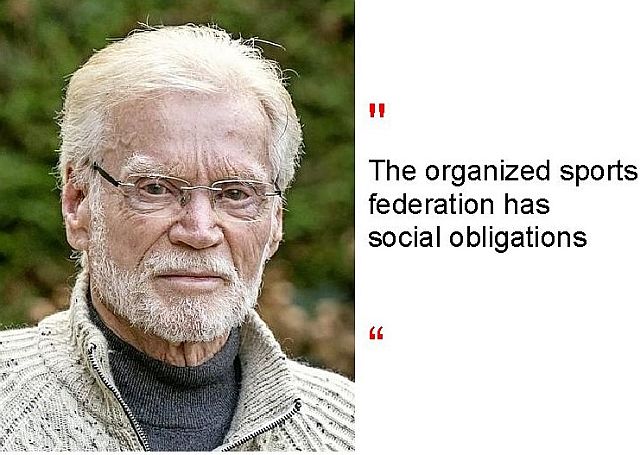 Quote 15
Help the volunteer is drowning

De oude sportcultuur kan niet blijven hangen. Krijgen we nieuwe activiteiten dan hangen we die graag gelijk op aan een vrijwilliger. Een bestuurder benoemd met specifieke kennis ondersteunt de vrijwilligers met een beleidsplan. Deze Bestuurder is de verantwoordelijke in het Bestuur, . Het succesvol opstarten, het zoeken van de doelgroep (wie en waar ) , het promoten van het product , Het Bestuur moet zich aanpassen voor het implementeren van nieuwe activiteiten, het mag de vrijwilliger niet laten verzuipen
Quote 16
Accessible and suitable Sports Accommodations are required
A national sports policy for people with disabilities also requires accessible and suitable sports facilities. No steep stairs or broken elevator as an entrance, but a ramp for wheelchair teams, athletes and supporters. In addition, suitable toilets, showers and changing rooms. Finally you can invite convalescents and older family members to come and watch.
Quote 17
Sport is necessary and no privilege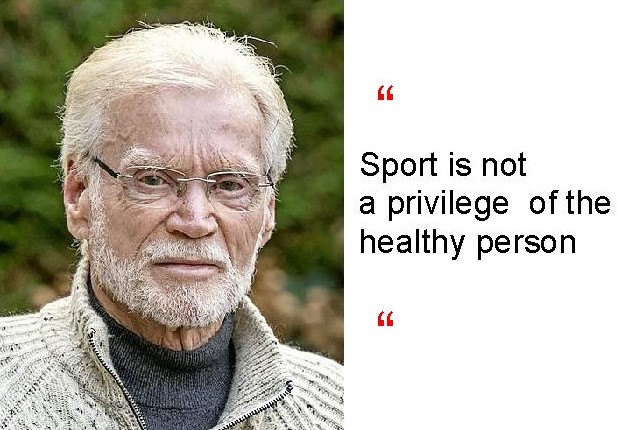 Quote 17
Sport is a privilege
© Copyright ZitvolleybalNederland