ParaVolley induction into International Volleyball Hall of Fame class 2022
Tens of thousands of dedicated volleyball fans
from 56 countries cast their vote for the Class of 2022!

the Photo: (ltr) Joop Alberda, Fam Pieter Joon, Fam Peter Murphy, Peter Sprenger
The Mayor of Holyoke Had the incredible honor of welcoming guests from around the world to the City of Holyoke at the 2022

International Volleyba

ll Hall of Fame Induction Gala Dinner and Ceremony!
Volleyball started 127 years ago by its inventor William G. Morgan. The sport evolved enormously and the popularity of the sport expanded to Europe, Asia, South America, Australia, and every country under the the sun; and we are the only place in the world that can say it started in our City of Holyoke.
Of the 6 nominated persons , 2 could not attend . These were inaugurated digitally. Four persons:
Kerrie WalshJennings (USA), Fernanda Ventorini (Brasil), Peter Murphy (Ned) and Pieter Joon (Ned) made their appearance by giving an Acceptance speech.
Friday evening Oct 21 was dominated by a reception hosted by the Holyoke Municipality and sponsors to honor the nominees. , The Mayor, the Police, the Governor Commonwealth, the State Senata, The House of Representatives, were the speakers This reception took place in the Hall of Fame building. Since the entrance was not wheelchair friendly, I was able to enter the Hall of Fame through the entrance of the "Children 's Museum".
The 6 chosen people each received their own "Box" in which they can exhibit personal items about their sports career. In addition, many presents are handed over. The "Inductee Ring", a T-shirt with the names of the Inductees and a jacket with the IVHF emblem and the name of the Inductee.
Beautiful personal plaque (2 pieces) 1 for home and 1 for the Wall in the Museum
photo top : Joe Campbell introduced Pieter Joon on behalve of World ParaVolley.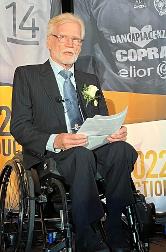 Pieter Joon emphasizes that Sitting Volleyball was started in 1956 in Haarlem by its inventors Van de Scheer and Albers. Joon has developed it worldwide since 1980 and the sport has evolved enormously. The popularity expanded over all Continents as most popular and attractive sport. He called on all National Volleyball Federations and the FIVB to embrace SittingVolleyball and take it seriously in the organizational structure and have a Sportspolicy . Many ex-Volleyball players are forgotten due to a permanent injury. This is also a responsibility that comes with the Sport.
Zie hier Galerij Nederlandse Volleybal helden in het Holyoke museum
© Copyright ZitvolleybalNederland